You don't know til you try . . .
IT
, posted: 13-Dec-2012 09:42
With broken screen still a useful device.
Was using it as a network camera.
IPWEBCAM, great program.
Samsung Galaxy S + 30m drop + asphelt =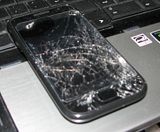 Everything else still worked, just no screen.
The top part of the digitizer still worked.
Just enough to slide unlock.
Looked into options to remote control it.
All it needed to do was auto start the IPWEBCAM program.
There was the app based methods.
VNC, Team viewer.
Not much good here as it required them to be installed.
Came across Screencast.
http://www.talkandroid.com/4472-android-screencasting-and-control-via-pc-now-available-unofficially/
Just what I needed.
Unfortunately I needed to run some commanded that required root access.
The phone was rooted, it still required the allow button to be clicked.
Easy if the device had a full D-Pad.
The Galaxy S does not.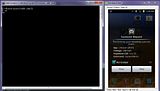 Final part of the puzzle
http://www.guidingtech.com/15008/adb-control-keypress-broken-android-keys/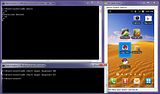 And we have a winner :)
So if your screen is toast but you still want to poke around your device, here is how.
Also tried T-Plan robot.
http://www.t-plan.com/robot/index.html
Promises remote control without rooting.
Could not get it to work easily.
I didn't bother asking for support as I got screencast working.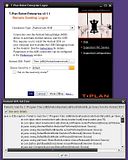 Other related posts:
Cisco SG500 <-> 2960/2950 VPN
#dickfails
Debugging, old school
---
Comment by gregmcc, on 13-Dec-2012 20:40
so i'm guessing there wont be a warrantee claim on this accident
---
---
Comment by Ben, on 14-Dec-2012 09:41
This is just what I needed - my Nexus 7 screen shattered a few weeks back and I had no idea what to do with it.
---
Comment by Nicurda, on 14-Dec-2012 17:55
I had a similar "challenge" with a drowned Motorola Droid. The phone worked perfectly well except for the broken screen.
By trial and error (on the screen, that is) I managed to get USB Debugging enabled on the phone.
I also came across screencast and THAT was it... I could finally see what the screen was showing.
First things first: I installed Droid VNC so that I could see the screen remotely.
Later I installed Bubble UPnP and stuck my Droid to a pair of speakers in my living room.
I use it now as a network-enabled jukebox to play any music stored in my NAS on these speakers.

I have to say the worst part (took a couple of days) was to enable USB debugging blindfolded... everything after that was a walk in the park.
---
Comment by efif, on 18-Nov-2013 14:14
does not work, all I get is a login screen with IP: 127.0.0.1 but I cannot choose login since the button is not available. Trying to get my info off phone, before I have to send my phone in.
---
Comment by JMN, on 15-Dec-2013 12:08
I just dropped a Samsung Mega, the screen cracked and was unresponsive. Moreover, it was locked with a PIN.Had the Samsung Multi-media docking station so I plugged the Mega into it and a mouse into one of the USB ports of the dock. The mouse could control the Mega and I was able to unlock/control the phone.So, if there is a way to dock your phone/tablet, that may work for you.
---
Comment by Maurine, on 19-May-2014 14:26
Appreciate the recommendation. Will try it out.
---
Comment by Fern, on 21-May-2014 19:42
Greetings from California! I'm bored to tears at work so I
decidrd to browse your website on my iphone during lunch break.

I love the knowlledge you provide here and can't wait to take a ook when I get home.
I'm surprised at how quick your blog loaded on my phone
.. I'm not even using WIFI, just 3G .. Anyways, awesome blog!
---
Add a comment
Please note: comments that are inappropriate or promotional in nature will be deleted. E-mail addresses are not displayed, but you must enter a valid e-mail address to confirm your comments.

Are you a registered Geekzone user? Login to have the fields below automatically filled in for you and to enable links in comments. If you have (or qualify to have) a Geekzone Blog then your comment will be automatically confirmed and placed in the moderation queue for the blog owner's approval.