You don't know til you try . . .
Further to my last entry about broken screen.
What is the bare minimum required for it to operate as a wifi network camera?
This much.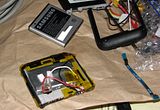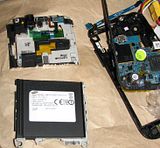 Well actually a little less.
But I kept the speaker, sim/sd socket on there.
The lower half had the hard buttons, mobile antennas, vibration motor, mic.
Other related posts:
Mobility Scooter eCarts conversion
How big a heatsink do you need to run a green laser pointer continuously?
Laptop backlight woes
Add a comment