human art and other bits
There are changes going on at Slingshot,
their FTP server is starting to get some action with a new folder titled
slingshot_games
ftp://ftp.slingshot.co.nz/slingshot_games/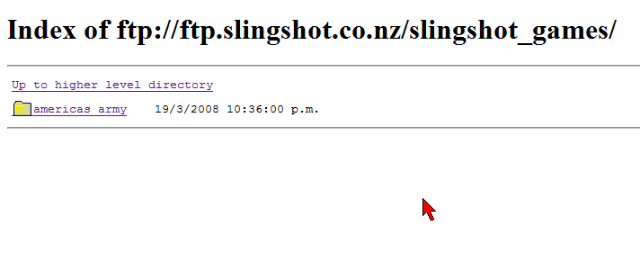 There has been a change and it looks like the latest version of Americas Army is there for the download from within New Zealand, Nice one Slingshot.
Slingshots
Americas army server
There are also other games hosted by Slingshot and reports or more in the future.
Slingshot Forums thread relation to Americas Army.
Other related posts:
EASEUS Todo Backup – my favourite backup software
Jolicloud on the netbook
A couple of new things on my EeePC 1001HA
---
---
Add a comment
Please note: comments that are inappropriate or promotional in nature will be deleted. E-mail addresses are not displayed, but you must enter a valid e-mail address to confirm your comments.

Are you a registered Geekzone user? Login to have the fields below automatically filled in for you and to enable links in comments. If you have (or qualify to have) a Geekzone Blog then your comment will be automatically confirmed and placed in the moderation queue for the blog owner's approval.