human art and other bits
FileMenu Tools
is an application I have been using for sometime now and find it an essential part of my windows box. I like how I can select a file with a right click and copy the filename and path.
Quote: FileMenus homepage


FileMenu Tools lets customize the context menu of the Windows Explorer. It lets configure the following aspects:

Add some build-in utilities in order to do operations over files and folders.
Add customized commands which let run external applications, copy/move to a specific folder or delete specific file types.
Configure the "Send to..." submenu.
Enable/disable the commands which are added by other applications to the context menu.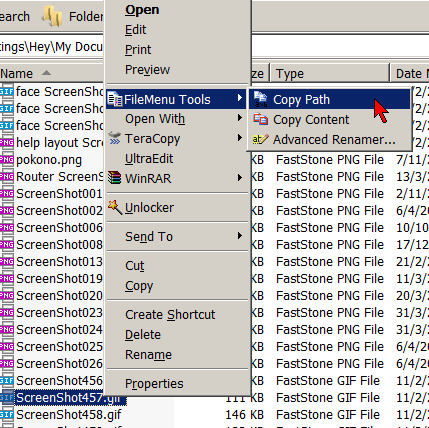 Other related posts:
EASEUS Todo Backup – my favourite backup software
Jolicloud on the netbook
A couple of new things on my EeePC 1001HA
---
Comment by nathan, on 6-Apr-2008 14:49
The copy as path thing is build into Windows Vista too

try it by selecting a file, holding down shift, and right click the file and Copy as Path
---
Add a comment
Please note: comments that are inappropriate or promotional in nature will be deleted. E-mail addresses are not displayed, but you must enter a valid e-mail address to confirm your comments.

Are you a registered Geekzone user? Login to have the fields below automatically filled in for you and to enable links in comments. If you have (or qualify to have) a Geekzone Blog then your comment will be automatically confirmed and placed in the moderation queue for the blog owner's approval.