Mobile devices, Planets and the Human Condition
humour
, posted: 19-Jul-2007 08:51
Well going about my Merry way, I happened apon a link posted by freitasm to his photo stream on Flickr...
and lo and behold!
look familiar to anyone??
Just a bit of a laugh!
I'll get something a bit more riviting and interest here shortly.. in the meantime I leave you with this gem of wisdom from XKCD...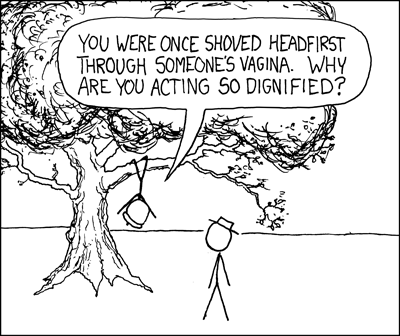 Other related posts:
Terrible, bad and a selection of Groaner jokes..
Large Hadron Collider Live Streaming webcam
Some Old classic jokes - "groaners"
---
Comment by chiefie, on 19-Jul-2007 09:21
Are you saying you're not Mauricio's alter ego? I always thought that Mauricio and you are like hyde and jekyll
---
Comment by cokemaster, on 19-Jul-2007 09:22
Perhaps you could get WXC to disconnect his service for copyright infringement... oh wait... he is with TCL.
---
---
Add a comment
Please note: comments that are inappropriate or promotional in nature will be deleted. E-mail addresses are not displayed, but you must enter a valid e-mail address to confirm your comments.

Are you a registered Geekzone user? Login to have the fields below automatically filled in for you and to enable links in comments. If you have (or qualify to have) a Geekzone Blog then your comment will be automatically confirmed and placed in the moderation queue for the blog owner's approval.