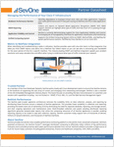 SevOne and Cisco have a long standing partnership enabling SevOne to leverage the rich set of Cisco manageability interfaces to help our joint customers implement a performance visibility strategy to meet their continuously evolving business needs.
SevOne provides the fastest, most scalable network monitoring platform to help you detect and avoid performance events before they impact your business. Now with the recent acquisition of RapidEngines, SevOne will enhance your ability to proactively identify and resolve performance issues by adding log data to the troubleshooting process.
SevOne monitors the performance of your Cisco network and application infrastructure, providing a consolidated performance dashboard that includes network, server, application, response time, and VoIP reports in a single web-based view. With SevOne, you can:
•Automatically build baselines of normal utilization levels
•Receive alerts when performance deviates from historical norms
•Achieve high-frequency object polling down to one second intervals
•Receive SNMP certification of any new MIB in 10 business days or less
•Maintain 12 months of "as polled" data without aggregating data
•Support enterprise and service provider architectures, including VoIP with Unified Communications, and typically multi-vendor implementations of VoLTE and IP Multimedia Subsystems (IMS)
"SevOne is a Cisco partner that delivers a scalable Network Performance management solution with a real-time performance management database. SevOne has developed a distributed architecture, based on peer-to-peer principles that can virtually scale to any size and deliver fast, on-demand reporting. In addition, they are working very closely with my organization to consume XML PI and NetConf. We value our partnership and have asked SevOne to be an integral part of our advisory board. Many Cisco customers like Credit Suisse, Comcast, UBS, CSC, Thomson-Reuters, and Aramark have chosen SevOne to monitor, trend and alert on their Cisco IT infrastructures."
Steve Giles
Manager, Product Development,
Cisco Systems Inc.
Request Free!