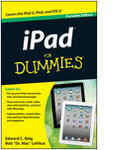 Part iPod touch, part MacBook, part e-Reader, the iPad combines the best of your favorite gadgets into one ultra-portable touch device. From sending e-mail and surfing the web to taking pictures, watching and recording videos, playing games, downloading apps, and so much more, the fun begins right here with this friendly For Dummies guide.
Magic touch — navigate the multitouch screen, use the onscreen keyboard, and e-mail and surf the web with just the touch of a finger
Picture perfect — turn your iPad into a digital picture frame, add cool effects to your photos, and make FaceTime video calls
Get rhythm — organize your music collection, listen to your favorite tunes, and create cool custom playlists
All those apps — download the latest apps, keep them up to date, and indulge your interests with games, e-books, and more
Request Free!