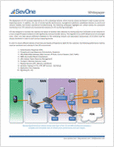 The deployment of LTE increases dependency on the underlying network, which must be closely monitored in order to avert service-impacting events. In addition, the rise of vendor-specific performance management platforms establishes barriers to end-to-end network visibility and hinders operational troubleshooting. The following whitepaper highlights ten critical metrics for successful monitoring of an LTE network and recommends solutions to LTE monitoring challenges.
LTE was designed to increase the capacity and speed of wireless data networks by moving away from dedicated circuit networks to a more simple IP-based architecture with significantly reduced transfer latency. The migration to an all-IP infrastructure of converged voice, video, and data places additional emphasis on the underlying network and associated mechanisms, all of which must be closely monitored in order to avert service-impacting events.
In order to ensure efficient delivery of services and Quality of Experience (QoE) for the customer, the following performance metrics must be monitored and collected in the LTE environment:
Authentication Response (AAA)
Firewalls and Load Balancers (Connections, Sessions)
CPG/PGW/SGW Gateways (Web Connect, IP Pools, Current Session, QoS, Traffic)
MME (Successful Bearer Established)
eNb (Upload, Radio Resource Management)
Transport: Switches (Queues, Load)
Physical Servers (CPU, Memory, Interfaces)
Synthetic Testing (Y.1731, RTP, SIP Connect - Call Setup)
Application Flow (Capacity)
Signaling (S1, X2)
Read our whitepaper to learn all about monitoring these metrics and more!
Request Free!