For those who have a Dreambox there are 3 main types of LNB Options you may have:
*** PLEASE READ THROUGH THE WHOLE DOCUMENT BEFORE YOU PLUG YOUR DREAMBOX INTO THE POWER, OR PLUG IT INTO THE SATELLITE CABLE, FAILURE TO DO THIS MAY BLOW UP EITHER YOUR SKY BOX, OR YOUR DREAMBOX, OR BOTH.. YOU HAVE BEEN WARNED!!! ***
If you live in an Apartment you should do all of this configuration before you plug in the Satellite Cable. As you will need to turn off the LNB power.
Option 1: Old Style Sharp LNB supplied with Sky in a residential installation where you are the only person connected to the Sky Dish.
They look something like this: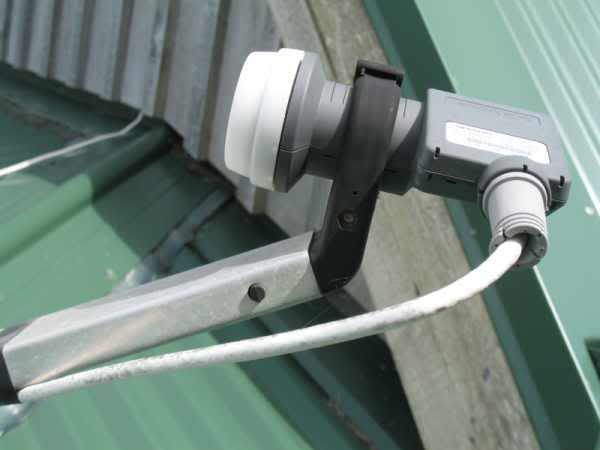 For this you will need to configure your LOF to be 11300.
Or you may have one of the New Dual Throat LNBs supplied by sky, they look like this (thanks for the photo "you know who"!).
Notice how the white plastic bit pointing towards the dish is "Oval" instead of "Circular" as is shown in the Old Style Sharp LNB.
Below are screenshots showing how you configure the satellite for Optus D1 and C1 if you have a Dual Throat.
First get into the menu by selecting the "Menu" key or "Dream" key depending on your remote and select Setup (option 6):
Then select Service Searching:
Then Satellite Configuration:
Under Satellite Config you need to specify "non-standard user defined configuration..." from the drop down list:
Then you setup to use Optus D1 as your satellite, and make sure the 22hz tone is off as shown below:
Now you need to make the changes under LNB 0 to specify the correct LOF, go to the LNB and press the OK button.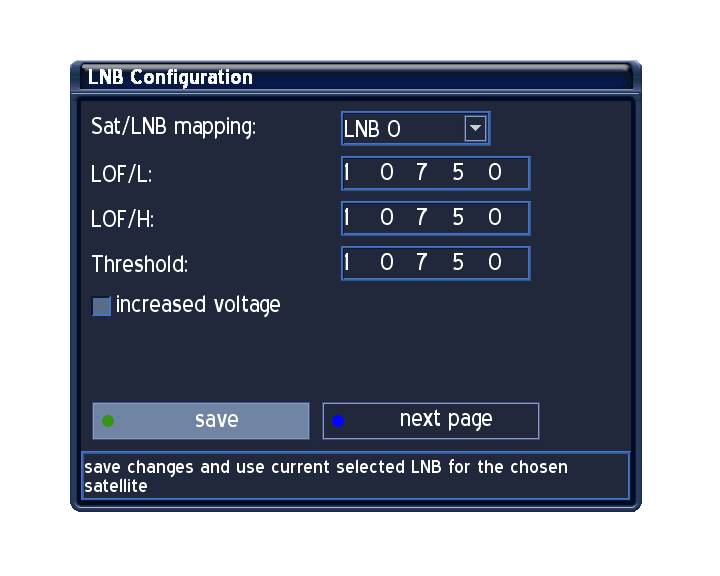 The above should either be 10750 (if it is a newer version of the Sky LNB, aka the Dual Throat), or if it is an older one the settings should all be 11300 instead of 10750.
** Update, the Threshold should actually be set to 11800, not 10750, 10750 when the LOF/L is 10750 works, but technically it should be set to 11800 no matter what your LOF/L is.
Check the Next page and make sure everything is disabled.
Save those settings and you are done.
Option 2: Dual Throat LNB supplied by Sky.
If you do have a Dual Throat LNB (photo to come up soon when I get a good pic of one) then the LNB LOF should be set to 10750. Also you can add in the Second Transponder by adding an additional LNB. As shown below:
Option 3: Live in an apartment building with a single Satellite dish suppling the whole building.
If this is your situation then you should make sure that LNB Power is turned off, this also means you won't be able to pick up the Virtical Transponders, only the Horizonal, so no Impara/NITV :(. Also your LNB LOF should be set to 11300. The LNB Power off is shown below, this would also be the same if you had more than one Decoder all pluged up via a Satellite Splitter. You should only have ont Set Top Box powering the LNB, all the others should have their LNB power turned off... otherwise you could blow up your tuner (and need a whole new box :(...
I hope this helps someone... Click the Ad Links above if you found this useful :)
Bt
Other related posts:
Gemini image blowing up Clone Dreamboxes
Daylight Savings in NZ
Changing MAC address