Attached is a screenshot of the error I get in Outlook 2013 (on Windows 8 Pro) when checking my Clear emails.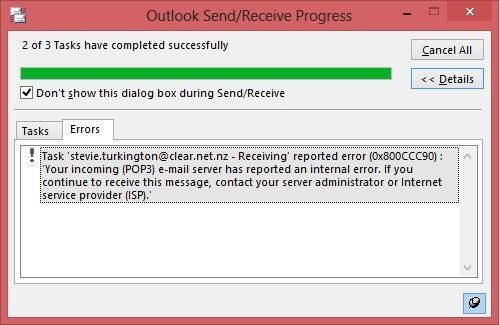 Last night I upgraded my anti-virus to GData TotalProtection 2014. I was receiving and sending emails (for both accounts) fine then.

No error is provided if I don't receive my Massey Uni emails (appears as if it has done the popping and found no emails to deliver, when in fact there are) - however by disabling the firewall and monitor of GData I can successfully receive Massey emails.

Both account seem to send emails without issue with firewall and monitor enabled.

Not sure whether the message I receive when trying to pop my Clear webmail is my security software related, or a problem on Vodafone's end. Disabling firewall and monitor does not allow me to get those Clear emails.

I plan on contacting my security software provided re: Massey emails only being received with monitor and firewall off. Strange, considering it was all working fine without disabling anything last night. Have done a shutdown last night /start up this morning, though.

Any advise would be much appreciated.