This setup guide is written for Windows XP / MediaPortal 1 RC2 / iMon 7.2
I use the iPad remote that comes with the Silverstone LC16M HTPC Case

1. Install iMon Software

Download iMON/iMEDIAN HD Ver. 7.20.0502 release (Setup)

Available from http://www.soundgraph.com

Note - The program will try and update to version 7.4, don't let it update
- I had problems with version 7.4 not sending the commands to MediaPortal
- Select custom install, and only install iMon
- Don't install iMedian

2. Select remote = iPad

3. Disable automatic updating

Under options -> Version / Update -> Don't check update information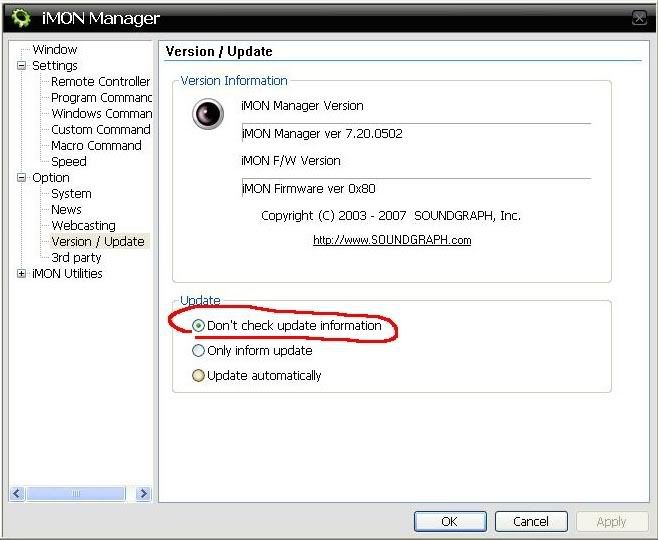 4. Window settings

This step turns off the annoying icon in the corner
Window Settings -> IR signal indicator on desktop -> Select "Don't show"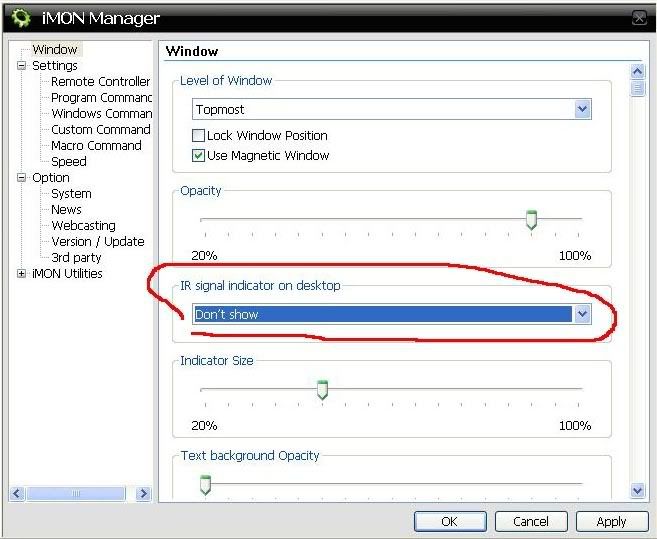 5. Settings -> Remote Commander

This step turns off the annoying sounds and also makes the remote start in keyboard mode

Under Settings -> Remote Controller
Remote Controller = iMON PAD
Initial Keyboard/Mouse Mode = Keyboard
Turn off sound effect for detected IR signal




6. Settings -> Windows Commands

This step will free up the Quick Launch button and Windows button so we can use them later to control MediaPortal

Under Settings -> Windows Command
Choose "Run Quick Launch Selector" -> Click Modify -> Choose Do not define
Choose "Windows Button" -> Click Modify -> Choose Do not define
Choose "Menu Button" -> Click Modify -> Choose Do not define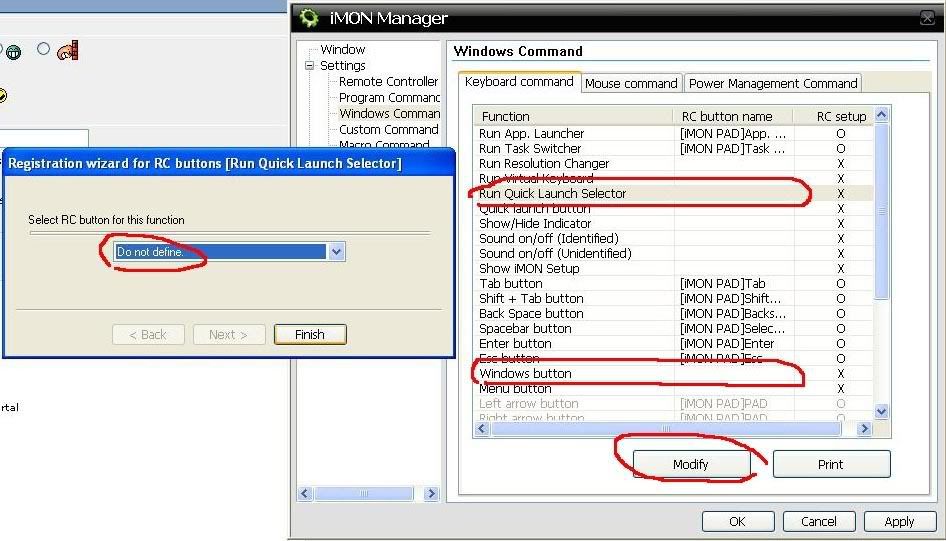 7. Download my mediaportal.imo setup file

Download MediaPortal.imo
Revision 1.0 @ http://www.megaupload.com/?d=CEKWRSFQ
Revision 1.1 @ http://www.megaupload.com/?d=NB2IJ058
Save the file onto your desktop for use in the next step

8. Settings -> Program Commander

Click Add Program
Click Search by File Name
Browse to C:\Program Files\Team MediaPortal\MediaPortal
Select Mediaportal

9. Import the downloaded mediaportal.imo settings file

Click Import
Open the mediaportal.imo file you saved to the desktop
Select Import Values including "RC Button Name" and "RC Setup"
Click Import

10. Download Shortcut'er Plugin

http://forum.team-mediaportal.com/plugins-47/shortcuter-plugin-shortcuts-mp-sections-32747/

This allows us to make keyboard short cuts to jump to different functions in Mediaportal
Put the shortcuter.dll in the plugin / process folder of mediaportal
C:\Program Files\Team MediaPortal\MediaPortal\Plugins\Process\shortcuter.dll

11. Enable and configure the Shortcut'er Plugin in Mediaportal

Load Mediaportal Configuration
Select Plugins
Scroll down to Process Plugins
Find the shortcut'er icon

Click enable

Then click Configure

Click Reset Configuration - This automatically loads up the default shortcut IDs etc
Modify the Keyboard Modifies to enable CTRL and SHIFT
[X] CTRL
[X] SHIFT

Click Update and close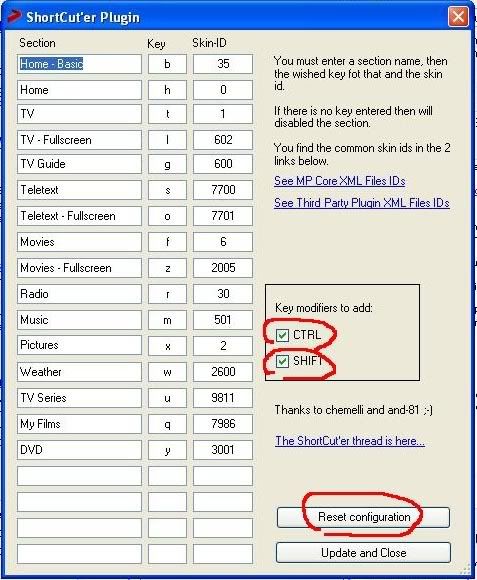 12. Additional steps to ensure mediaportal does not loose focus (optional)

Load Mediaportal configuration
Click on general settings
Click [X] Keep mediaportal always on top

13. Summary of mapped iMon buttons image file

Here is an image of the remote with an explanation of what all the keys do.
I mostly use MP for TV so i havnt fine tuned the setup for watching DVDs/listening to music yet.