human art and other bits
On August 6, 1945, the nuclear weapon "Little Boy" was fired on the city of Hiroshima.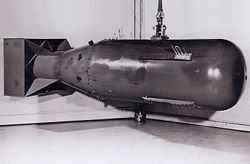 The immediate blast killed roughly 70,000 people, with 100,000 additional deaths occurring after the explosion for decades to followed.


Other related posts:
EASEUS Todo Backup – my favourite backup software
Jolicloud on the netbook
A couple of new things on my EeePC 1001HA
---
Comment by Wob, on 6-Aug-2007 11:48
Thanks for bringing this to our attention.

A sad and shameful day for mankind and the planet.
---