Mobile devices, Planets and the Human Condition
Here in New Zealand we have just had one of our political parties, the Greens (called such due to their affiliation with eco-friendly policy) to have all foods labelled with their country of origin.
I for one a quite keen for this move, especially in the areas of meat products and fresh produce.
I also feel its important to be given more power of choice, and the consumer the power to vote with their wallet.
I do understand that many people don't particularly care about the country of origin of their food, and many foods carry their country of origin as a badge of honour.
Most packaged foods will, with a bit of thought have some sort of indication about their country of Origin,
the label might have "imported from XX by YY, Packaged by YY"
The other thing I think is important as it gives us, the consumer a little bit of an ability to vote with our wallets.
lets face it, just because a food stuff comes from overseas won't stop us buying it, it does however mean that we can choose to support countries we want to, especially should their be an identical product, but one comes from country A, which has a regime we disagree with, and the other from B which we do personally agree with, then a little bit of voting with the wallet never goes astray.
I do think this labelling should be pushed further, and all the fast food chains should be required to list the countries of all their foods and ingredients as well.
as its a sunday, heres the latest from XKCD.net: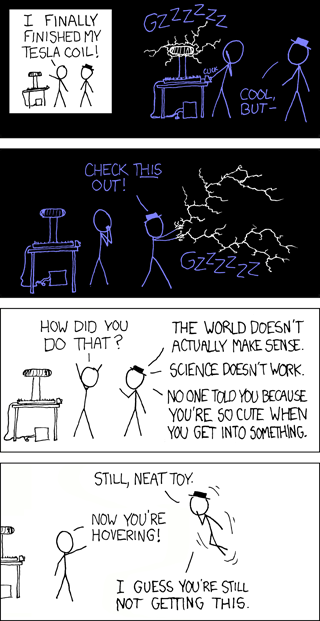 And we'll finish off with a Mark Twain Quote:
Advertisements contain the only truths to be relied on in a newspaper.
have a great day everyone.
Other related posts:
New Zealand goes live with its nationwide content filtering firewall
Michael Jackson, dies of Heart attack. aged 50
5.0 on the ricter scale earthquake in Los Angeles
---
Comment by Wob, on 9-Aug-2007 09:21
I agree totally with knowing where your food comes from.

Peanut butter is something that's winding up my family. Take a look at the labeling on your favorite brands (including the good old traditional family favorite - Sanitarium), and you will see "Made in China".

"At least they are stating where it came from" I hear you say, but what if I have doubts about the integrity of this product? What is the alternative?

Kraft is still made in Australia. My wife had a great idea, "why don't we buy raw peanuts and make our own?". The problem is that it is not stated on the raw peanuts what their country of origin is - I suspect China also.

Looks like it's Kraft and supporting the aussies then.
---