Mobile devices, Planets and the Human Condition
Its currently being reported that more and more investigation and study of Velociraptor models are showing that the velociraptor was less of a monstrous lizard on steroids, and more of, well a monstrous turkey on steroids.
researchers are reporting the prescence of quill knobs on the forearm of a velociraptor bone found in mongolia.
Apparently this confirms that the velociraptor had feathers, a long suspected fact that noone had, until now, been able to prove.
The particular velociraptor studied was about three feet tall,
Most of the reports are that the velociraptor portrayed in Jurassic Park was greatly exaggerated however there has been reports of larger velociraptors, although non that quite reached the size of those in the movie that I am aware of,
I find this result amusing especially as in one of the bigging scenes of the movie a fat kid says "it looks like a big turkey" just before being traumatized by Dr. Alan Grant (played by Sam Neil)
so it appears that the velociraptor is less and less this:
and more and more this:
Its quite interesting to note that there are many scientists who think that even the Tyrannosaurus rex bore feathers or proto feathers, at least as juveniles.
Nonetheless, I think the Velociraptor will live on in all our imaginations as a fascinatingly cool super intelligent killer,
I leave you with these gems from
XKCD.net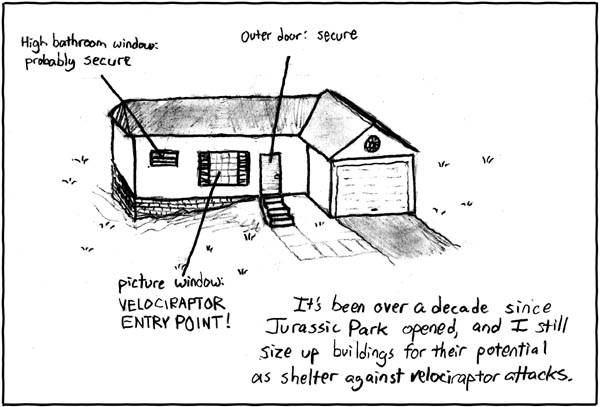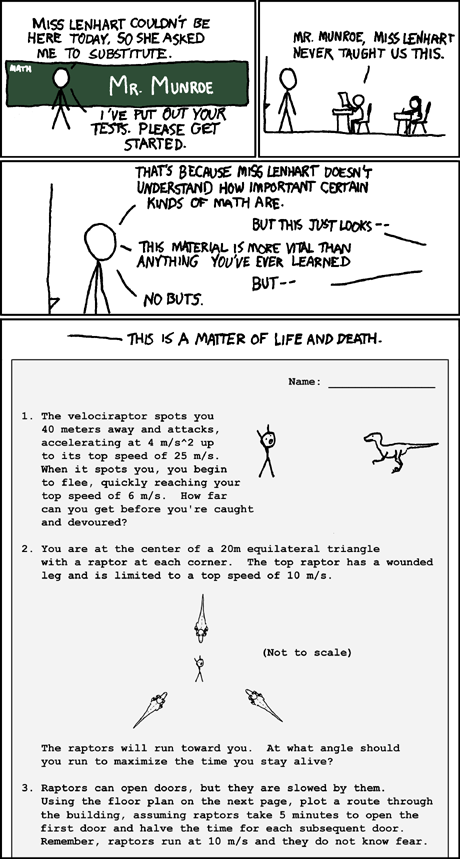 Other related posts:
Monster Duck-billed Dinosaur found in Utah, America..
Pyramids at Giza vs. Pyramids at Visoko
Pyramids at Giza - smaller than the real thing? Bosnian Pyramid Controversy