Technology. Dissected, discredited.
Blog
, posted: 8-Aug-2008 10:53
It seem's that Apple needs to have someone working full time on quality control of Apps and their listings on the store. They also really need to enable the ability to either complain or contact them directly if someone thinks something is awry and an app needs a re-review.
I feel the App Store system is working quite well but it seems that once a dev is 'in' theres no real test of worth for their apps.
Nullsofts SOCKS proxy app as a perfect example of the exact opposite of the rule is true also. Nullsofts App is legit and falls within Apples guides - yet it gets pulled, presumably because of AT&T's connection sharing rules - rules that are relevant to AT&T's market and could be legit elsewhere. Not only did they pull the App (twice!) but they didn't even bother to contact the dev with an explanation or even notification that it had happened.
We don't want Apple become big brother but some common sense - 'Does the world need this?' questions need to be asked. And if they need to be asked, someone needs to be employed to ask them.
What I don't get is that the $US999 I Am Rich app actually makes it live, but that NZ's own
Orsome
tvGuide v1.2 takes weeks to get through quality testing processes. Orsome, based on sales numbers alone have proven that it's a real app, and people are happy to pay, so why can it not be fast tracked?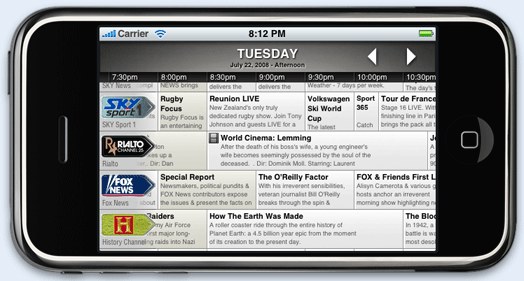 I still think overall though that this is all just a teething process for Apple, the iphone and it's distribution model. If things didn't go wrong - it would be just weird. Long term, they've made a great way of end users to have a simple and easy way to get extra features for their phone. No need for manuals, complex distribution and install procedures.
UPDATE
Apparently 8 people actually brought that I Am Rich app before it was pulled
.....
Other related posts:
Vodamoan - new connection pains
Fine Tuning Mac Mini, Logitech Harmony, Plex Nine & EyeTV
Using a MacMini with a Logitech Harmony remote control
---
Comment by stuartm, on 8-Aug-2008 14:03
I think Apple have got themselves on a slippery slope by censoring removing apps that appear to add no value. I'm not saying that the $1000 app should have stayed in the store, but if I wanted to spend $1000 on a useless app, I should be allowed to. I would hope that the "wisdom of the crowds" approach works, so that good apps get good reviews and promoted, whereas the crappy apps just get buried.

But yes, I agree that Apple need to get their approval processes speeded up and perhaps with a bit more transparency too.
---
lotech's profile
simon
Auckland
New Zealand
I run a post production company specialising mainly in TV & Commercials. I also do graphic and motion design when it's there to be done. I've used Windows my whole life, but am now run Macs exclusively in our office and at home. Few issues. It just works.
My current setup is a Early 2008 17" Macbook Pro (C2D 2.5Ghz, 4gb, 320Gb, UWXGA Screen).