G'day everyone,

I'm currently a student at AUT University in Auckland, studying towards a Bachelor of Computing and Information Systems. Once I graduate, I intend to come back and take the Master of Forensic IT as well. I've been a geek all my life, but have been a jack-of-all-trades geek until now, so I am going to specialize with my uni study. I hope to get into computer forensic psychology, that is, using cyberpsychology to trace hackers, cyberstalkers, and other computer criminals through the Internet.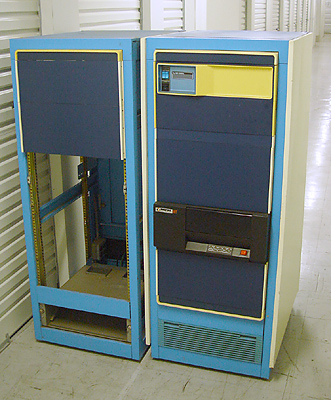 As I mentioned, I've been a geek for a long time. One of the first computers I got to play with was a DataGeneral MicroNova system like the one shown here. I also had many Atari and Amstrad machines back in the day, and was really a latecomer to the IBM PC compatible world. I learned Atari BASIC, some 6502 machine language, and did some hardware hacking back in the 80's, including installing a US Doubler chip in my Atari 1050 floppy disk drive, and ripping the wires out of old joysticks to turn them into hardware interfaces, built on veroboards, that could control 240v electrical applicances using microcontroller chips and relays. At one stage I had the electric kettle, the heater, and the toaster at home all being controlled by a timer program that I wrote in Atari BASIC. I also had a simple home alarm system wired in to an Atari machine.

My early days of using IBM-compatible machines included connecting to, and eventually running a FIDOnet connected BBS. I had a point system off the Pumphouse BBS, in Waihi, which was run by Matthew Purvis. We were in Zone 3, Net 774, where the net coordinator was Barry Blackford. I was right into door games back then, especially one called TradeWars. I've always liked strategy games rather than FPS games, but a bit of mindless fragging with a BFG or rocketlauncher is a nice way to relax sometimes.


I started turning my hobby into a career in the computer industry with a DTP course at the Tauranga District Education Trust, and soon after I began working in a computer sales and repair store in Waihi, doing the desktop publishing there. Watching over the shoulder of the technician, I quickly learned how to build and repair IBM compatible PCs, and built my first machine there, a 486DX4-100, which I nicknamed Quazimodo. It was the ugliest thing you ever did see, and was basically just a motherboard mounted on a piece of plywood, with the metal expansion card support, the hard drive bay, the PSU and power switch all screwed into place on the plywood base. It was a great little machine for tinkering with, and I learned a lot from it. I also started learning about networking while I worked at Computer Solutions Waihi, at first using LapLink / FastLynx parallel and serial cables, then advancing to 802.3 10Base2 ethernet over coax, and eventually 10baseT networking, including hubs and routers.

Having decided to further my studies in networking, I came up to Auckland, and took an MCSE course at AMES Training. I came away with an MCP qualification (I was the first to gain a Microsoft qualification through AMES) and was then employed at AMES as a network technician, hardware support engineer, and eventually also as a Comptia A+ computer hardware lecturer. I wore all three hats there for a while, and I quickly learned the intracaies of multicasting images using Norton Ghost to install a classroom full of computers overnight using an automated script, and then I took this a step further, using Microsoft IntelliMirror services with RIS and WOL to install a networked OS the Microsoft way. It was here also that I started getting in PXE's, including BartPE.

After AMES, I began doing contract networking jobs, and was part of the team that installed the Artena student management system at BCNZ (now known as Laidlaw College). I set up two Windows 2000 servers for them, including creating the AD domain and all user accounts, installed PostgreSQL server and Artena, then set up the MOLP licenses so that they could access the student management database from anywhere in NZ via Terminal Services. I also installed a Tandberg backup system, and helped Mark Sutton (their in-house IT guy) to integrate the new Windows domain with their existing Novell network.

Another highlight of my computer career was when I set up my own computer repair shop in Henderson. It only lasted two years (hey, I'm a geek, not a businessman!) but I was able to solve a lot of computer and networking problems for my customers during that time. Much of my time here was spent removing spyware and viruses from customer's computers, and I became very familiar with such tools as HijackThis, SyBot S&D, AdAware, and remote windows registry editing using PXE disks. I used to say that I surfed the Windows Registry like other people surf the 'Net.


After closing my computer repair shop, I took a dramatic change in career direction, and got into security. This eventually gave me the opening that I wanted, and I began working for Chubb security, a large multinational company which had an Intranet, VOIP telecommunications, Citrix clients, and lots of other nice toys that you only get to play with in a corporate environment. I was there for three years, soaking up the experience of being an end-user instead of a network admin. I now have a much better appreciation of network administration, having been on the receiving end!

I'm now back at University, hoping to develop my career further. As you can see, I've been a jack-of-all-trades geek until now, able to do some programming, some hardware work, some networking. Now it is time for me to specialize. I look forward to meeting other geeks here at GeekZone.