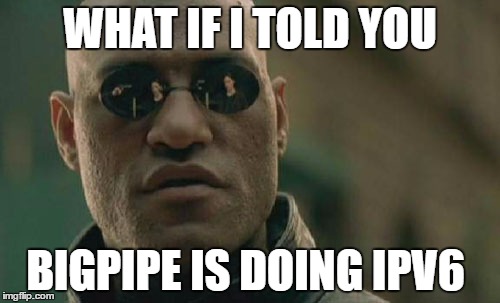 Hello Geekzone. We've been looking forward to this for ages, but we can finally announce:

IPv6 is coming to Bigpipe.

Whew. Okay. So here's how we're kicking things off:

We are doing an open beta here on Geekzone. To get this underway, allow me to introduce @IPv6pipe. You can get in on the beta by PMing @IPv6pipe your details, including the email address you use for Bigpipe.

Once you've PM'd, we will process a batch of subscribers on to IPv6 each day. Please note that the IPv6pipe account won't be manned according to our usual service hours or SLAs. If you need Bigpipe service unrelated to IPv6, please just go about this the normal way.

Please keep posting about the IPv6 beta to this thread only. We will be using the beta and the information from this thread to build our support processes for IPv6 when we have it consumer-ready.

DISCLAIMERS


This is not a consumer-ready version of IPv6. This is a beta. There will be bugs. Expect them, and expect to report them (again, right here in the thread will be just fine unless we ask you to take it to email / PM for whatever reason.)

We ask very sincerely that you only participate in this beta if you actually know what you are doing with regard to modemy routerish networky stuff. If you don't know this stuff, we politely ask that you wait until we announce a general release of IPv6 before asking to have it enabled. This will avoid wasting both our time and yours. If you do try to enable IPv6 and you muck it up to the point that your connection stops working, that's on you. If you get to this point and need us to disable IPv6 on our end for your connection, please again PM @IPv6pipe asking for IPv6 to be disabled. Please do not submit support tickets to our care team regarding the IPv6 beta.

That said, screwing up IPv6 is probably nothing that a factory reset, or disabling IPv6 on your equipment won't fix.

INSTRUCTIONS
Send @IPv6pipe a PM with the email address you use for Bigpipe asking to have IPv6 enabled.
After you've had IPv6 enabled on your line you will need to ensure your router is set up with the following settings:
Connection type: PPPoE or PPPoA with the username and password both set to "Bigpipe", automatically obtaining IP address and DNS servers (Just like you'll already have for IPv4)
IPv6 support: Enabled (many routers have it turned on by default)
If your router requires an IPv6 connection type, set it to DHCPv6-PD
If your router has the option to request an IP address and prefix, set it to only request a prefix (IA_PD)
If your router requires the prefix length to be set, set it to /60
Internal address allocation method: DHCP or SLAAC (we recommend DHCP, but the choice is yours)
If your router needs IPv6 DNS servers please use 2403:9800:c041:1000::a and 2403:9800:c041:1000::b
Note: After IPv6 has been enabled on your line you may need to restart your router a few times, as our routers may need to collect some extra data from your line that only becomes available during a connection attempt. The prefix that will be assigned to each line is a sticky /60
FAQs

Do I have to have a public IPv4 address to get IPv6?
- No, you don't. IPv6 is available to anyone on our network that opts in via Geekzone for the beta.


Can I get a bigger prefix than a "/60"?
- No, sorry. Currently we only offer a single "/60" per connection.


What does "sticky" mean? Will my prefix ever change?
- Your prefix will not change unless we need to change something on our end (for example if you're upgrading from ADSL to UFB).


Can I get a truly static IPv6 allocation?
- No, sorry.


Do you support reverse DNS and delegation for IPv6?
- No, sorry. Currently we do not support DNS delegation for IPv6 prefixes.


Do you know about the bugs with IPv6 on the Bigpipe modem?
We know about some issues, but if you find one, please post it anyway so we can deal to it.

Thanks for your patience - we know a lot of you have been waiting for this, and we're stoked to get it off the ground!

TTFN, Bigpipe.