Summary for those that don't want the fully monty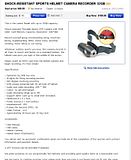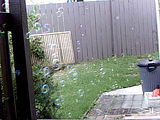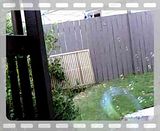 Paid $90

Pros:-
-Cheap
-Good image quality for the price paid
-USB connector, no need to remove the SD Card
-Laser pointer assisted framing
-640x480 30fps

Cons:-
-Poor low light, to be expected.
-Not environment resistant, easy fix though.
-Not suitable for sports unless bright day.

Good value for money.
Get it if you will be filming during the day or low action during the night.
Know what to expect and you won't be disappointed.

***
Video is 25Mb

It was an overcast day, dark sky, no sun.
Just a run around my house after watching some bubbles.

-----


I have been on the lookout for a cheap helmet style cam for some time.
Last time I hunted was 1.5 years ago.
Back then you didn't have much choice.

While browsing trademe I spotted these.

***

Definitely met my budget requirements.
So I got one.
There are a few variations on TM, mostly differing in maximum capacity SD card supported.

"IR lights for fixing recording position "
=== Laser pointer, Nice

I had an idea of what to expect from my previous purchases of budget integrated cameras.

I was pleasantly surprised in this case.
The image processor is pretty good at making the image look ok giving the CMOS sensor.

Presentation and finish was nice.
It is NOT water/dust resistant so pretty limited what 'sports' you can use it in.
Easily fixed with a few dabs of silicon though.

The LCD display tells all you need to know.
-Card capacity left
-Battery capacity. (Only 3 segments)
-Total video files
-Recording status
-Flicker removal frequency

Inside we find...
-Ram for the frame buffer. Hynix
-Image processor. SPCA1528A
-Eprom for the firmware. F16-100HIP
-1/4" CMOS image sensor.
-4mm F4.0? Board lens, 55-60 Degrees Field Of View

Interesting lens arrangement, the aperture is at the front.
Due to the high F-Stop it's low light performance will be poor.
Since it is fixed Aperture it uses shutter speed to control exposure.
Usually 1/100-100000 s
Lower shutter speeds means blurry movement even though it is in focus.
You will see in the sample video.
Unless it is a full sunny day don't expect good results from any moving subjects.

I test a 3.6mm F2.0 lens in it.
Had to make a spacer to lift the test lens away from the board due to the focal point.
It worked but the lens had a poor IR-Cut filter so the images were washed out.

Back to the original.

Tested with a 8gb Kingston SD6.

Power consumption was about 150mA.
Didn't heat up like the pen cam so not much energy lost, good efficiency.
The low voltage cut off was about 2.5v , giving most Alkaline AAA's about 3-4 hrs runtime.
Rechargeables are out of the question due to the high cut off voltage.
There does not appear to be any form of step up or regulator circuit in there.
So the operating range is 5.5-2.5v.
This is good as a Lithium battery can be used.

Your options are,
-UltraFire Lithium AAA(10440) 500mAh. Would need to be wired in parallel.
Some modding required.
-UltraFire 3.7V 18650, 2400mAh. Impressive mAh. ***Best option.
-Lipo Cell, ZIPPY 400mAh (42x23x6.9mm), Would need 2 in parallel.

I will be testing the 18650.
Since any of them will require modding might as well go with the most capacity.

The system is only compatible with a FAT32 formatted card. Yes I tried NTFS.
So each continuous recording is limited to about 3.5-4hrs.
Why would you care?
With 2400mAh you can go for 16 hrs non stop.
Once the file limit is reached it stops and waits for 60 secs before auto powering off.
You can resume recoding before it turns off.
Otherwise just turn back on and start again later.
Since I want to go non stop with no user interaction I will be making a button pusher curcuit, like my mp3 player one.