Hai Guys and Gurls,

So I Finally just built my Self a media PC
This is the TV card http://www.playtech.co.nz/product.php?action=showdetail&id=4087

Hauppauge WinTV-HVR4000 HD Quad-mode TV
So I got all the standard channels to work with ''PowerCinema''
Am Running Vista Ultimate 32 Bit

You probaly Get this question every day, How ever I just cant seem to figure it out. Typical noob for you I guess :P

Anyways the real question is How do I VMC to Pickup the TV card and get the channels and also how do I make my channels in both p1rograms go through ''Freeview'' ? I found something on google linking me to this page put accidently restarted and meh ><
Also I cant even get the channels to open.

Here is the Picture of were I currently have the cord from the Antenna plugging into the card.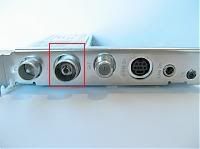 Can some please point me into the Right direct ( Links) or tell me what I have to do...
Any help would be Greatly appreciated..

Cheers

Ben