Hello,

This is my first post at Geekzone, but I have lurked here a while. I live in Auckland, and any specific suggestions on places to shop etc are appreciated. EDIT: Seems I'm unable to post links, sorry, I had all my gear linked, the infinity stuff is still easy to find, maybe the receiver too.

Basically I'm looking for help on setting up my home theatre now I own my own house. So theres a few parts to this thread.

A. The Soundsystem:

My equipment has been gathered over a few years and I think the receiver at the very least probably requires replacing.

My AV receiver is a Pioneer VSX-d1011. I bought it with my floors in 2004, got a great deal, but it has no HDMI :(
Speakers are 2 floors Infinity alpha 50
2 surrounds Infinity beta ES250
A centre Infinity beta C250
And a Wharfedale Powercube 12+ as a sub

The speakers have not been thrashed and still run very well.
There is some minor damage to the cones as shown.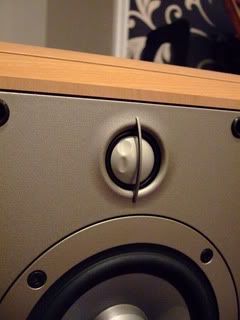 This was from a friend helping move them.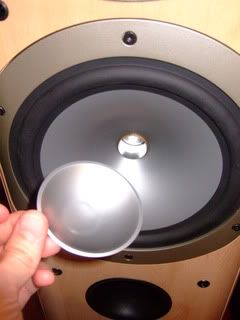 This is from me trying to repair the damage he did moving them.

I assume this isn't going to affect the sound quality, but can I repair this easily??

The receiver not having HDMI is a PITA. The volume dial is also broken, and needs repair. If you had this system, would you entertain keeping the reciever?? Otherwise what would you look at upgrading the receiver to?? Lets say I want to spend less a couple of grand, but this limit is somewhat arbitrary. I need atleast 4 HDMI and a component in.

Would you consider changing anything about the rest of the speaker system??

B. The Screen

My TV is a Panasonic Plasma TH42PV700AZ, I think from the shape of the lounge it will be best positioned above the (currently blocked, and not working) fire



There are a couple of questions I have about this.

The first is about that funky wallpaper 'feature wall thingy', There is a chimney behind it, but I dont know what supports the facade, or if it backs straight onto the chimney. From examining through the window, it looks to only stick out 2-3cm (about an inch) from the front of the chimney should you follow the vertical line down from the roof.

If I got an electronic stud finder, or some such device, would I be able to figure out whether the chimney is in there and its dimensions?? What if there is an air gap between the ?gib and chimney??

Would those bricks be a smart place to mount a tv?? I would be gutted to come home and find my TV smashed on the floor with 4 bricks still bolted to the back of it.

Finally, the fire, I'm currently thinking of either replacing it with a closed 'kent' fire (if I can get a line on some cheap wood). Or maybe some sort of fake gas fire, as we're on mains, but thats next winters problem. This winter were just doing the heat pump thing.

Anyway, would mounting a TV on a wall above a fireplace be a problem as far as temperature is concerned, what difference would a closed fire or gas fire make?? Does temperature adversely affect the TV, or only being able to view it (we actually use it very rarely).

What would the logistics of actually mounting it here be, I cant imagine running cables through a wall with a chimney in it is very feasible. What do you think it would cost to just get someone else to do it ;)

Thanks for your time