I ordered my Apple iPod nano from Apple Store which had stated that its Estimated Shipping is within 24 hrs. So, I was in the thought that I will receive my iPod in a day. But now its 3 days since I ordered my iPod, its yet to arrive!


So, what does this Estimated Ship within 24 hrs mean?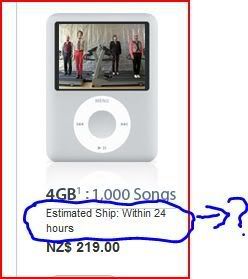 In this very small country, it is taking more than 3 days to arrive from Auckland to Dunedin - WTF!!!