Hi guys
For my work, the IT install guys have used VGA to a circular plug, then back to vga at the other end to get the plugs through nice brush plates.
I'm needing to run a 5m parallel cable from the thin client, through 2 existing brush plates to the thermal receipt printer in a new location. But obviously parallel is way too big to fit.
Its a major fast food restaurant (brand new location), so I can't change the interface to a smaller one like USB or ethernet, and I can't cut out new holes in the new tiles. Ideally need to run through the existing brush plates.
Is there any such thing as adapter cables to a 'mini parallel' and then back. Need about 5 m total from thin clients parallel port to the printer.
(They used these on the VGA's)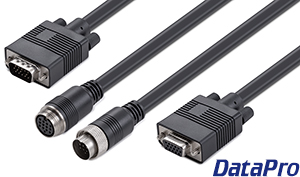 Cheers :)